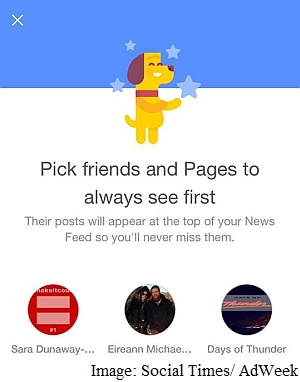 Facebook is testing a new feature on mobile app, that allows users to select friends and pages whose posts they'd want to see atop News Feed. With the move, Facebook is essentially bypassing the priority scaling of its own News Feed sorting and display algorithms by letting users choose what is most important to them.
Facebook told AdWeek's Social Times :

"We are always exploring new ways to improve the Facebook experience, and are currently running a small test of a feature that lets you indicate that you'd like to see posts from a specific person or Page at the top of your News Feed,"
Facebook has confirmed it is testing the feature, and has not yet detailed plans of a global rollout yet. The News Feed
algorithms will continue to work for posts by other users or pages than those selected by users. The 'See more of what you love' feature under testing is in effect similar to the opt-in notifications that users can choose to receive from their friends and pages, ensuring they receive the latest updates from those entities. The biggest difference however appears to be that the new feature will place posts by the selected friends and Pages on top of the News Feed.
First reported by AdWeek's Social Times, the new feature is being tested on mobile and shows up on the News Feed. Users can choose to dismiss the notification of the feature, and skip choosing the friends and Pages they want to see on top of their News Feed.
If they tap 'Get started' however, they are shown a list of friends and Pages they regularly interact with to choose from. The screenshots are unfortunately unclear as to whether there's a limit to the number of entities that can be selected, or whether users can also arch from their list of friends and liked Pages to choose their favourites.